IN MEMORIAM: JAROSLAV STETKEVYCH (1929-2021)
Posted in News Story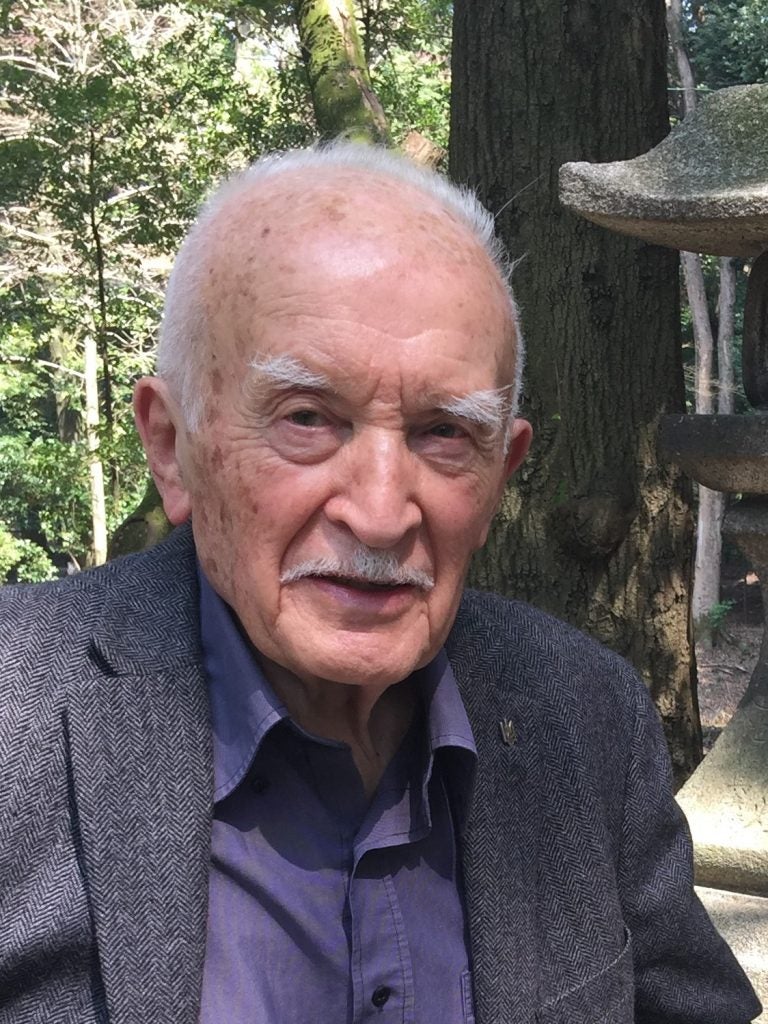 Jaroslav Stetkevych, Professor Emeritus of Arabic Literature of the University of Chicago and Research Affiliate of the Department of Arabic and Islamic Studies at Georgetown University, died on June 12, 2021 after a short illness, at the Georgetown University Hospital.
Jaroslav Stetkevych was born in Burkaniv, Ukraine on 25 April, 1929. A refugee during and after World War II, he began his secondary school studies at the Statsgymnasium in Göttingen and completed them at the Ukrainian Gymnasium at Berchtesgaden, Germany in 1947 and the German Gymnasium in Munich, 1949. He began his university studies at the University of Madrid where he received the Licenciatura in Semitic Philology with Premio Extraordinario honors in 1959. During that time (1957-58) he studied in the PhD program at Cairo University. In 1959 he received a Rockefeller Foundation Grant to pursue PhD studies in the department of Semitic Languages and Literatures at Harvard University. There he studied Arabic Literature under Sir Hamilton Gibb and received his PhD in 1962. He taught Modern and Classical Arabic literature and Classical Arabic syntax in the NELC department at the University of Chicago from 1962-96. In 2012 he was appointed Research Affiliate at the Department of Arabic and Islamic Studies, Georgetown University, in Washington, DC, where he lived with his wife, Suzanne Pinckney Stetkevych.
Stetkevych's research interests and publications spanned Classical and Modern Arabic Language and Literature, with his deepest involvement in Arabic poetry. His work on Arabic linguistics and philology grows from his 1970 book, The Modern Arabic Literary Language: Lexical and Stylistic Developments to include studies ranging from contemporary Arabic language on stage to the hermeneutics of Classical Qur'ānic exegetical terminology and the poetics and semiotics of animal nomenclature in the classical ode. A groundbreaking critic of traditional Western Orientalism, his 1967 Oxford lecture "Arabism and Arabic Literature: Self-View of a Profession" and 1979 Levi Della Vida paper appeared as a bilingual volume, Arabic Poetry and Orientalism in 2004.
His major contributions are to the study of lyricism and aesthetics in the Arabic poetic tradition, most fully formulated in his 1993 book, The Zephyrs of Najd: The Poetics of Nostalgia in the Classical Arabic Nasīb. In his 1996 book, Muḥammad and the Golden Bough: Reconstructing Arabian Myth, he integrates the study of Arabian and Islamic myth into the broader fields of comparative mythology and religion. His 2015 book, The Hunt in Arabic Poetry: From Heroic to Lyric to Metapoetic gathers and refines twenty years of work on Arabic hunt poetry to demonstrate the continuities and developments of the hunt theme from the pre-Islamic ode through Modernist free-verse poetry.
Stetkevych remained an active and endlessly curious scholar until the very end, accumulating a vast store of knowledge that few academics attain. He was also a kind and generous man, and his colleagues and students treasured his conversation. His final contributions to Arabic literature and culture were articles on "The ʿAyniyyah of Abū Dhuʾayb al-Hudhalī: Elegy and the Achievement of Allegory in Classical Arabic Poetry" in 2020 and "The Personal and Public Spheres in the Works of the Egyptian Intellectual, Yūsuf Zaydān: Novels and Essays," which appeared in March, 2021. In 2019 he was awarded, together with his wife Suzanne Stetkevych, the prestigious Sheikh Zayed Book Awards: Cultural Personality of the Year (Abu Dhabi, UAE).
He is survived by his wife, Suzanne, their sons Julian, Qays, and Khalid; his two older sons George and Gonzalo; and five grandchildren.
A private memorial is being held by the family.
In place of flowers, please consider donating to either:
Ukrainian Studies at Kyiv Mohyla Foundation of America (link). KMFA is a non-profit, non-governmental organization set up to support the National University of Kyiv Mohyla Academy in Kiev, Ukraine.